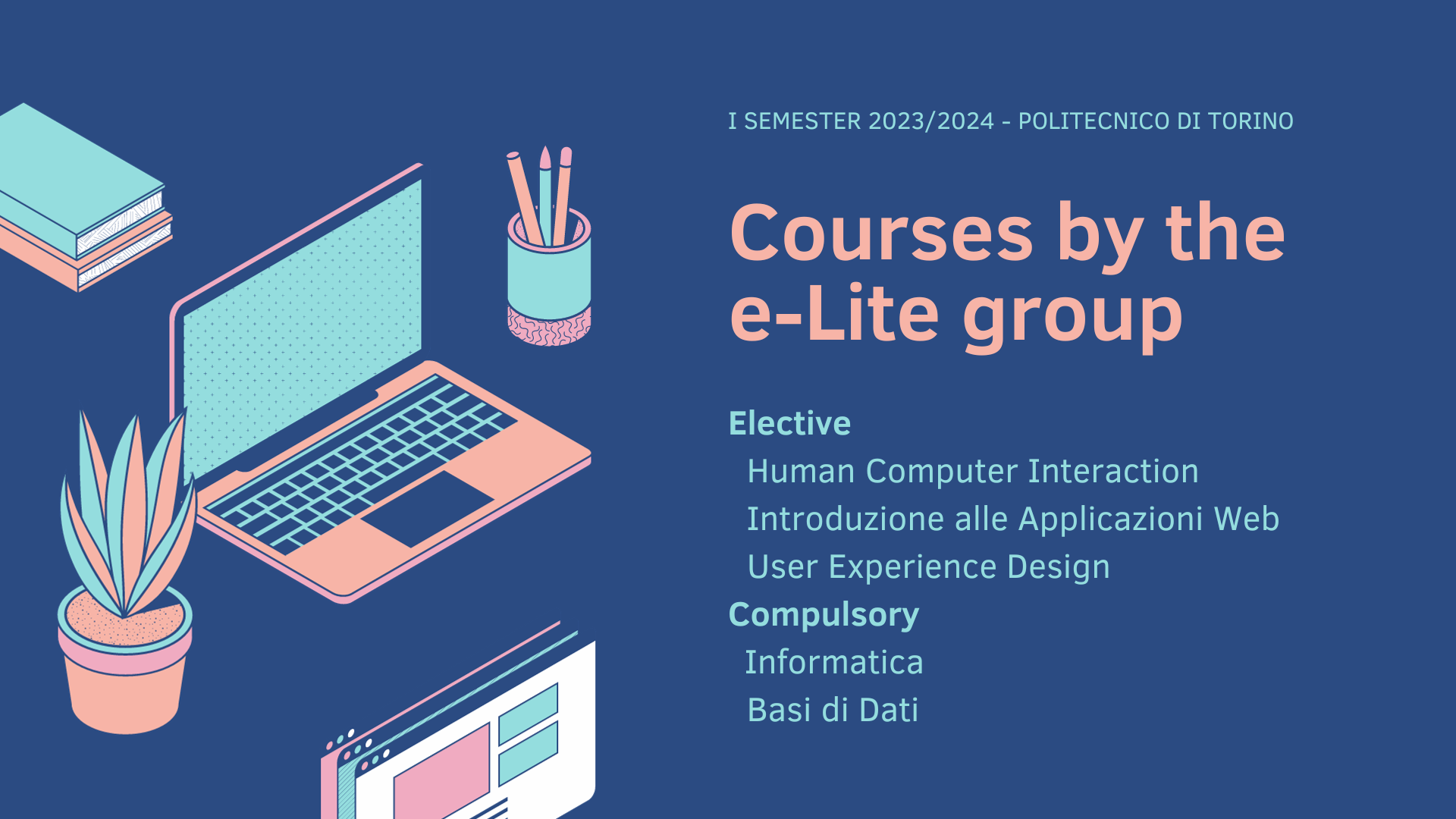 In the next semester, members of the e-Lite group will teach various elective and mandatory courses. In welcoming back Politecnico's students, we invite them to look at our offering.

On September 6-8, 2023, the 3rd International Conference on Information Technology for Social Good (GoodIT 2023) in Lisbon, Portugal. Alberto will present a paper entitled "Nudging Users or Redesigning Interfaces? Evaluating Novel Strategies for Digital Wellbeing Through inControl."
The 2023 edition of the Italian Symposium on Digital Education (ISYDE), organized by the Italian e-Learning Society (SIe-L), is planned in Reggio Emilia (Italy) on September 13-15. From the e-Lite group, Fulvio will participate in the special plenary session Blending strategies in universities: methods, technologies and policies, that focuses on the adoption of blending learning technologies on some major Italian universities.
e-Lite: Intelligent and Interactive Systems
The e-Lite research group develops and studies innovative technologies applied to interactive applications. The spirit of the research is the integration of complex systems, based on the interaction between humans and technology, in which the complexity gap is managed by intelligent software components.
The main research areas are on the crossing of Human-Computer Interaction, Ubiquitous Computing, and Artificial Intelligence.
📚
Our publications are available through PORTO@Iris, the open repository of publications produced by the scientific community of Politecnico di Torino.
🚀
We actively collaborate with international associations, non-profit and public institutions, as well as industrial partners. Have a look at our current and past collaborations!
💡
Discover our research topics and our commitment to the Open Source community, throught the software tool we realize. Check out our research!